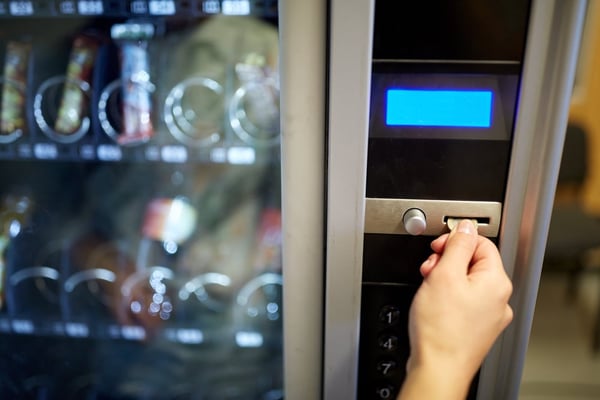 We've all been there before. Hungry, thirsty, and in a rush to get back to work or class. There's no time for a full meal, so you settle for a soda and snack from the vending machines in your office or break room. You put some money into the machine, make your selection, and nothing happens.

You press the buttons again, hopeful it was just user error. But nothing happens again.

Hmpf?

The money is gone and you're without a soda or snack.

No amount of banging or pushing on the machine will help. Trust us. So, what can you do to get a refund after losing your money?

Below are three ways to get your money back from a vending machine.
---
Does your company have multiple locations? Consolidate all your vending needs into a national account with a vending management program.
---
How To Get Refunds From A Vending Machine
1. Refunds From a Coke or Pepsi Machine
If you lost money in a soda machine that's serviced by either Coca-Cola or Pepsi, there's a toll free number you can call to get your refund. Both companies have a system in place for this issue. They will send you a coupon to your home that is redeemable at any store where sodas are sold through a cooler or refrigerator. Here are the phone numbers:
Coca-Cola: 800-438-2653
Pepsi: 800-562-6800
2. Refunds From Vending Machines Not Serviced by Coca-Cola Or Pepsi
Sometimes local vending machine companies will service Coke and Pepsi machines in addition to snack machines. In this case, check the machine for the vendor's information. It'll often be either above the coin and dollar bill mechanisms, or on the side of the machine. Give them a call and let them know you've lost money and they will make sure you get it back.
3. Not Sure Who Services The Machine? Speak To Property Management
If you've lost money in a vending machine and you're not sure who services it, speak to the management of the location. They should know who to call, and sometimes they have their own procedures in place to provide refunds to customers or guests.
Nowadays, many vending machines have credit card readers on them. A lot of people will buy something from a vending machine, then see on their statement that they've been charged twice. Most of the time this charge is only temporary. See our blog post about why your credit card is charged twice for more information.
It's frustrating to lose money in a vending machine. Even though it's only a dollar or two, it's your money and the expectation of receiving something for it. When the transaction doesn't go through as expected, you feel cheated. Be sure to contact the supplier about the issue. Not only will you get your money back, but it will prompt a service technician to fix the vending machine and prevent the same thing from happening to someone else.