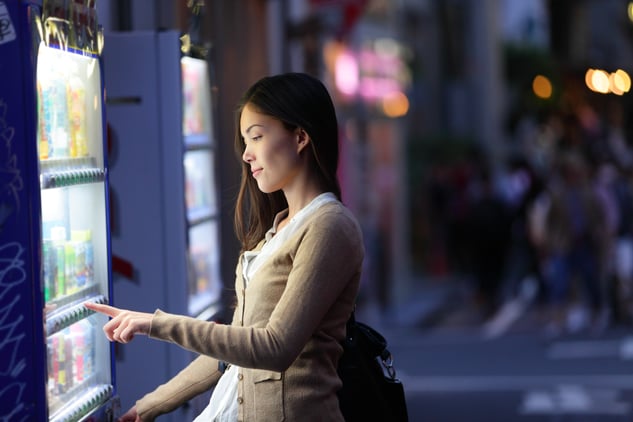 Nationwide vending services provide convenient access to a variety of beverage products and snacks for many businesses. These services are tailored to each customer's unique needs and take into consideration equipment, pricing, and product selection needs. Having a reliable vending service ensures that customers and employees have access to food and beverages whenever they need them, keeping them happy and productive.
Benefits of Managed Nationwide Vending Services
Managed nationwide vending services provide various benefits which we'll get into in this section. For starters, when it comes to vending, there are thousands of operators to choose from, and knowing who to work with isn't always easy. You want to work with service providers that have strong reputations, with a focus on reliability. If you're rolling out a national vending service initiative, working with experts who know the playing field is the right way to go.
Not only do managed nationwide vending services help identify service providers that provide excellent service, but they also maintain and monitor operator metrics for performance.
Managed nationwide programs can also help simplify your operations with a single point of contact to handle the entire program. You'll only have to deal with one commission check, making it easier to demonstrate how your vending initiative improves your bottom line. You get to focus on your business and what you do best, without having to deal with multiple service providers at each of your properties. You focus on your core business, and your nationwide vending service provider handles the rest.
It's worth noting that if you are working directly with many operators nationwide, you may not be getting the type of service you could be getting with a dedicated nationwide vending service like Vending Group. Bottling companies operate at a global scale, so smaller operations can sometimes lose priority. With a smaller boutique service, you know you'll get the attention you need.
Analyze Your Current Vending Machine Setup
Using a nationwide vending service provider helps simplify the entire vending setup process. From regional analyses to customer surveys, nationwide vending services can help you identify which of your properties are already operating with equipment, the types of equipment they are using, vending rates, regional pricing best practices, and much more.
The major steps for a national vending program service analysis include:
Objective setting and strategy development
Property surveys to determine current vending
Vendor selection
Implementation plan that includes timelines and revenue projections
Ongoing evaluation and centralized customer service
When you partner with a nationwide vending service provider, they can streamline the entire process and make you a hero in the eyes of the C-suite when you show how your vending program is increasing overall revenue.
Research and Select a Qualified Managed Nationwide Vending Service
If you've made it this far into the article, chances are you are ready to commit to your nationwide vending program. That means you'll now need to consider who to work with to manage that program. We have some suggestions to help make the right choice.
First, you're going to want transparency and delivery. Many nationwide vending service providers promise the moon and the stars, and unfortunately, they don't fully deliver. When doing your research, be aware that if it sounds too good to be true, it probably is. You'll need a partner to help with logging vending problems, and following up with reported issues in a timely manner.
Does the service provider you're considering have a ticketing system in place? When dealing with nationwide vending, you'll need to manage many machines in multiple locations. Having well-defined service protocols in place to monitor and address issues in a timely manner is critical for an effective program.
Another indicator to check for is employee retention and engagement. Does the vending company of your choice have a track record of employee turnover? The vending industry requires specific knowledge about logistics and servicing machines, plus the products that work best in specific locations. You want to choose a team that has experience in the industry.
Develop an Effective Nationwide Vending Plan to Maximize Revenue in 2023
Now is the time to develop an effective nationwide vending strategy to maximize revenue in this (still) new year. Instead of working with major producers directly, a situation where you may find yourself as a small drop in a major source, we suggest you consider a nationwide vending service provider who caters to your specific needs. Get premier service that tens of thousands of customers working directly with bottlers don't have access to!