When someone says they'd like an ice-cold, fizzy soda, you probably immediately think of the big names, like Coca-Cola, Pepsi, Dr. Pepper and all the various brands and flavors those companies produce.
But, you might be surprised to learn that there are many smaller soda bottling companies that have histories of their own that can rival those big brands. What we're talking about here is craft soda. (Yes, it's a real thing.)
Every region of the U.S. appears to be home to little-known soda companies that produce a variety of delightfully delicious flavors. While you might not find any in your typical vending machine, here are ten soda companies you probably haven't heard of but should definitely check out the next time you book a trip.
Founded by two best friends, IZZE (named after the daughter of one of the friends) was thrust into the Colorado market in 2002. The drinks come in a variety of fruity flavors. Although now owned by Pepsico, IZZE is still a local favorite.
A staple beverage that can be found in pizzerias in New Haven, CT, Foxon Park was founded by Italian immigrant Matteo Neclario in 1922. The company is still family-owned, and offers many flavors, such as Iron Brew, Gassosa, and Birch Beer.
So, this one's not exactly a brand, but rather a style of soda. It's described as 'Root Beer with a spicier kick.' Iron Port is native to Idaho and parts of Utah.
Green River, a favorite soda in Illinois, has a bit of a unique history. It was created in 1919 right when prohibition went into effect. A brewery decided to start making 'Near Beer', a non-alcoholic version of beer, which eventually became Green River. It's lime-based flavor and use of real sugar makes it a delightful, refreshing drink.
Shasta is a local favorite in Maryland, despite being named after a spring in California. Flavors include Twist (lemon-lime), Black Cherry, Tiki Punch, and more.
Making the list is a gourmet soda from Montana. Brewed for 'interesting people', flavors include their original Huckleberry and their newest, Strawberry-Orange.
Perhaps the oldest soda company listed here, SquamScot was founded in 1863 and is produced in New Hampshire. It's a family-owned operation that has enjoyed steady growth since 1917. Squamscot comes in many flavors, including creamy orange, maple cream, and the mysterious half & half.
Cheerwine is another family-owned soda bottling company. Based in North Carolina, it was created by LD Peeler amid a sugar shortage during WWI.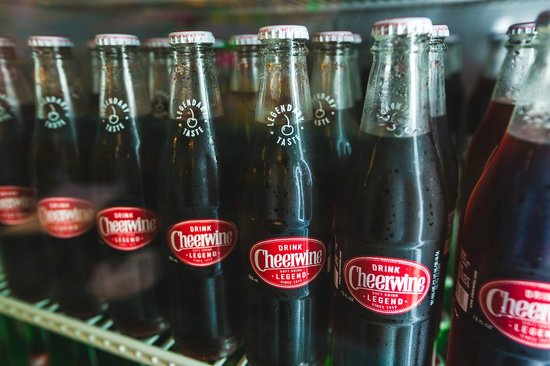 Dubbed 'The official soda and water company of Rhode Island,' Yacht Club Soda is in their centennial year. They offer twenty-five varieties, including classics, fruity drinks, and seltzers.
One of the larger soda bottling companies on the list but still considered a craft beverage, Jones Soda is based in Seattle, Washington. In addition to carbonated soft-drinks, the company also produces energy drinks and candy.
Have you tried any of these sodas? If so, what's your favorite?