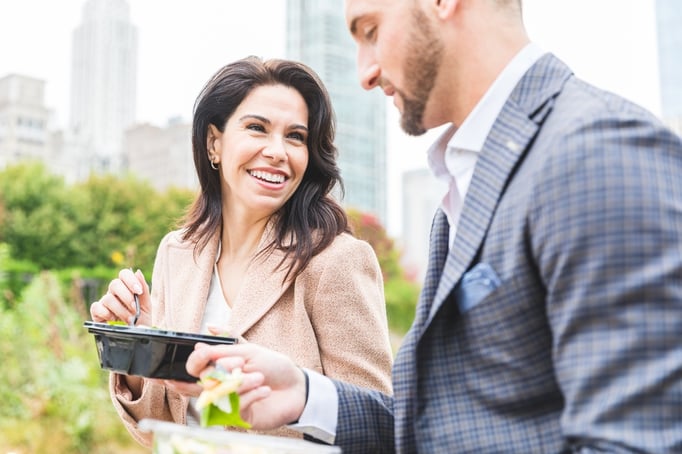 Chicagoans work hard. How else would the city be ranked as the third largest in the United States? But you know what they say--work hard, break hard. Okay, maybe that's not the saying, but we're going with it. Because as hard as Chicago works, there's got to be some quality places to go on your lunch break to refuel.
It might be a struggle some days to make time for a break and good food, but even if your office has the best vending services in Chicago, sometimes you just need to get outside and get some fresh air. So here are ten excellent lunch spots to try in the loop.
1. Toni Patisserie & Cafe
A European style patisserie, Toni's is your spot for French Cafe classics like crepes, quiches, and sandwiches.
65 E Washington St, Chicago, IL 60602
2. Blackwood BBQ
Looking for some quality pulled pork or brisket? Try Blackwood BBQ . It's savory food for the soul.
233 N. Michigan Ave, Chicago, IL 60601
3. Antique Taco Chiquito
If tacos are your thing, head on over to the Revival Food Hall. There you will find Antique Taco Chiquito, which offers some of the best tacos in the city.
125 S. Clark St., Chicago, IL 60601
4. Max's Take Out
Sometimes you just need something quick to take back to work. If that's the case, Max's is always a safe bet.
20 E Adams St, Chicago, IL 60603
5. Naf Naf Grill
Some of the best Mediterranean food in town. They have multiple locations.
6. Aloha Poke
Another Revival Food Hall lunch spot in Chicago, Aloha Poke is a solid choice if you're in the mood for something fresh and flavorful.
7. Fontano's Subs
You can't go wrong with a good sub, especially one piled high with cured Italian meats and a smooth slice of provolone. Also, it's rated as the best sandwich in America by Zagat.
332 S. Michigan Avenue, Chicago, IL 60604
8. Pizzeria Uno
Thought we'd leave off a spot for a slice of deep dish pizza? Never. Head on over to where it all began at Pizzeria Uno.
29 E Ohio St, Chicago, IL 60611
9. Farmer's Fridge
It might feel weird buying a salad from a vending machine, but you'll think otherwise when you try one from Farmer's Fridge. Multiple locations throughout the city.
10. Pierogi Heaven
Polish dumplings stuffed with potatoes, sauerkraut, and mixed fruit. Need we say more?
169 N Wells St, Chicago, IL 60606